Happy Wednesday book friends! This is my third review within a week's time, who am I?? Today's review is of the final book in a series I only started last year. Nevertheless, I think it has become one of my favorite trilogies, even though it's made me cry on multiple occasions…
I am talking about Legacy of Light of course; the final book in Matthew Ward's Legacy trilogy. You can also check out my reviews of Legacy of Ash and Legacy of Steel if you wish.

I think this is also the biggest trilogy I've ever read, with all books being between 700 and 800 pages. With that said, it's absolutely worth your time. I honestly don't have anything bad to say about this series at all! But obviously I can't end my review here, so check out the content warnings if you wish, and I'll explain a bit more why this book was great.

Be warned though: although this review won't have spoilers for Legacy of Light, there might be spoilers for the previous two books.
View content warnings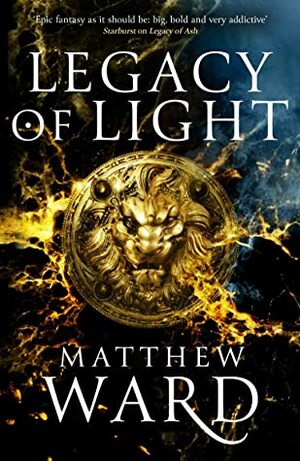 Legacy of Light
By Matthew Ward
My Rating: ★★★★★
Published 19 August 2021 by Orbit
Fantasy | War | Found family
Warfare, myth and magic collide in Legacy of Light, the spectacular conclusion to Matthew Ward's acclaimed Legacy trilogy.

For the first time in many years, the Tressian Republic and the Hadari Empire are at peace. But war never sleeps.

In Tregard, Empress Melanna Saranal struggles to protect a throne won at great cost.

In Tressia, Lord Protector Viktor Droshna seeks to harness forbidden power to restore all he's lost.

As the sins of the past are once more laid bare, every road leads to war. Darkness gathers, alliances shatter and one final battle looms. What hope remains, lies within the light.
My Thoughts
Like is usually the case with adult fantasies like this, it took me a few chapters to really get into the story. This series is by no means fast-paced, and this final book is no exception. However, I did enjoy the POV chapters more in this installment compared to the previous book, even though the cast of characters was more or less the same.

The story takes place a couple of years after the events of Legacy of Steel, but this time jump was barely noticeable. I actually really liked it in this case, because there are many off-page developments that wouldn't have made sense had there been no time jump at all. Another thing I loved was that this installment kind of brought the whole story full-circle back to book 1. I can't spoil too much here of course, but needless to say that books 1 and 2 remain relevant throughout this book as well.

I feel like with this series the plot always kind of sneaks up on me. I'll be reading POV chapters not knowing much of what's going to happen, and then suddenly you get an inkling. Then more of an inkling. Then (at least in my case) lots of foreboding feelings… That said, this book was quite unpredictable. There were a bunch of twists that I hadn't anticipated, and you will greatly fear for every single character in this book.

The character arcs were also amazingly executed. While Viktor is slowly dragging everyone into the dark, others are trying their very best to maintain the fragile peace the Tressian Republic has managed to achieve. It makes for interesting developments and even more interesting interactions between all the characters. To be honest, I could've used more Rosa POVs, but I'll take what I can get. And while I was definitely heartbroken by the end of the book, I can't think of any better ending.

Lastly, I want to briefly touch upon the writing. I think Ward's writing is the best I've come across in a long time. Everything feels just amazingly right. Even though it's a long book, the choice of words and the flow honestly make it a smooth read. You'll easily read 100 pages in one sitting without even noticing. Legacy of Light, and the whole series in general, has the feel of classic fantasy books without all the density that often comes with them.

So like I said, solid 5 stars, nothing bad to say at all.
And that's it for my review of Legacy of Light! I genuinely hope that every fantasy lover picks up this series. Let me know if it's on your TBR or if you've read the series already! I'd love to know your thoughts.

Find more reviews in my archive!