Hello, hello! I'm back already with another review. This time of the Stardust Thief, which did not come on my radar until after its release for some reason. But I have zero regrets of picking this one up, as it was amazing!
I finished the Stardust Thief at the beginning of this month, so not too long ago. If you enjoyed the Daevabad trilogy, or enjoy any type of mythology and folklore, do yourself a favor and pick this book up. You will not regret it.
View content warnings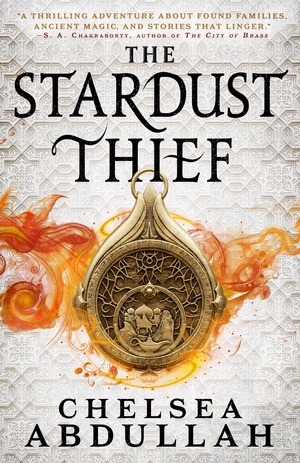 The Stardust Thief
By Chelsea Abdullah
My Rating: ★★★★5
Published 17 May 2022 by Orbit
Adult fantasy | Magic | Mythology
Neither here nor there, but long ago…

Loulie al-Nazari is the Midnight Merchant: a criminal who, with the help of her jinn bodyguard, hunts and sells illegal magic. When she saves the life of a cowardly prince, she draws the attention of his powerful father, the sultan, who blackmails her into finding an ancient lamp that has the power to revive the barren land—at the cost of sacrificing all jinn.

With no choice but to obey or be executed, Loulie journeys with the sultan's oldest son to find the artifact. Aided by her bodyguard, who has secrets of his own, they must survive ghoul attacks, outwit a vengeful jinn queen, and confront a malicious killer from Loulie's past. And, in a world where story is reality and illusion is truth, Loulie will discover that everything—her enemy, her magic, even her own past—is not what it seems, and she must decide who she will become in this new reality.

Inspired by stories from One Thousand and One Nights, The Stardust Thief weaves the gripping tale of a legendary smuggler, a cowardly prince, and a dangerous quest across the desert to find a legendary, magical lamp.
My Thoughts
Let's start with worldbuilding first. One of my favorite aspects of this book was that it doesn't take long at all to understand the world, and yet it feels complex at the same time. All Jinn give life to the desert upon their death, and therefore they are viciously hunted. However, Jinn relics hold magic that humans love to covet. Enter Loulie, who with her Jinn bodyguard Qadir, has become suspiciously good at hunting for these relics and selling them to the highest bidder. That is honestly all you have to know upon starting this book, but you'll see that nothing is ever this simple.

Some readers thought the beginning was too slow, and I have to disagree there. No, it's definitely not fast-paced, but I feel that if the plot hurried along more at the beginning it would've taken away from the overall magic of the story. In my opinion, the early meetings between Loulie and the prince set up the plot so nicely, and you kind of think "wait, I know how this story goes" but in a way that makes you excited. There are four POVs in this book, and each offers a glimpse into a character's thoughts. This story had characters ranging from lovable, to mysterious, to badass, to just completely hateable, and it made for dynamic storytelling.

Storytelling itself is also a very important aspect of this book, and I loved the small sections in between chapters that detailed the mythological history of this world. They add another deep layer to the world, and draw parallels with the stories of One Thousand and One Nights. At the end I knew we were building up to something, but I didn't quite think it would end like it did. Definitely makes me need the next book asap!
Why I docked half a star
For one very simple reason: sometimes I legit had no idea what was going on. I'm a very visual reader, and I see everything in my head like a movie. While the vast majority of the story played out as such, at some points I had no clue what to picture at all. Mostly this happened during action scenes. Thankfully this didn't hinder my enjoyment of the book all too much. The overall magic and plot more than made up for any criticisms I may have.
And that's it for my review of The Stardust Thief! I highly recommend this book to anyone who loves mythology, epic adventure, and a dynamic cast of characters. Let me know what your thoughts were if you've already read this book!

Find more reviews in my archive!