Hello book friends! It is review time again, and luckily for you all, this book comes out right in time for Fall (let's all pretend that Fall starts on September 1st). Last year, I had the pleasure to read and review Lovely, Dark and Deep by Claudia Cain, and this year I got to read and review the sequel: Wicked Walking!
Wicked Walking comes out August 30th, and I cannot recommend this series enough if you like atmospheric creepy reads and are still looking for that perfect Fall read. I read this book in one sitting, so that should also say enough. Do check the content warnings before diving in, though.

Warning! This review won't contain spoilers for Wicked Walking, but might contain spoilers for the previous book: Lovely, Dark and Deep

I was given a digital ARC in exchange for a fair and honest review. My opinions are my own.
View content warnings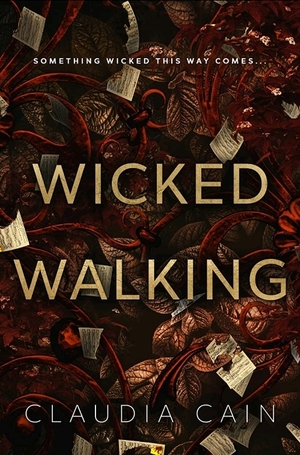 Wicked Walking
By Claudia Cain
My Rating: ★★★★★
Published 30 August 2022 by Black Sheep Books
Fantasy | Witches | Magic
After killing a monster and dragging herself home from another world, Cassandra Reilly has become more than a witch – she's a hero. Sure, she can't sleep through the night and she's haunted by what she saw, but things should be looking up. Right?

Except something followed her out of the woods that day. And despite her best efforts – and the help of Merich, the handsome Fae Warden – Cass has failed to find any trace of it. Vanishing entities rarely bode well, but maybe no news is good news. And with a ticket out of town and her future on the horizon, Cass could really use a lucky break.

She's not going to get one.
My Thoughts
When I read Lovely, Dark and Deep last year, I remember reading the end and thinking "oh no!" Well, this sequel is one continuous "oh no!" Things don't just get bad, they get really bad. And also really creepy. So obviously I loved it. We follow Cassandra again as she tries to figure out what on earth followed her through the veil at the end of the last book. One of my favorite things about this book was how funny and natural the banter between Cass and Merich is. It is exactly my type of humor. Second favorite thing is that it takes place right before Halloween. The whole small town + Halloween setting made the whole story so atmospheric; it was like I was there myself.

Another thing I loved was how this sequel answers the questions of the first book, while simultaneously raising more questions to be answered later. Second books need to clear up things from the first, but definitely need to stay mysterious enough for me to crave the third. Wicked Walking does that expertly. There are so many tiny details that I want answers of now.

Despite all the creepiness and high stakes, there are also many personal conflicts that Cass has to deal with. The least of which becoming the Witch or not. Furthermore, tensions between her and her family increase as secrets are being spilled. Cain presents this issues realistically and really shows that there are no straightforward answers here. The ending also completely blew me away. Even though I know that Cain doesn't pull her punches, I didn't see this particular ending coming. But it only makes me want to read the third book asap!
And that's it for my review of Wicked Walking! This book was everything I want out of a sequel: it was fast-paced, high stakes, and left me wanting more. I hope you will consider picking up this series this Fall, you won't regret it.

Find more reviews in my archive!