Happy Wednesday book friends! Recently I got a whole bunch of new books again, and I was so excited to read them that for once, I actually did. One of those books was This Woven Kingdom, which I am probably going to obsess over for some time…
This Woven Kingdom actually came out way back in February, and like always I wish I had gotten it sooner. But on the other hand, I have found zero info on book 2 and I am already dying to get my hands on it. Anyway, it's clear that I really enjoyed this book, so read the content warnings if you wish and I'll tell you more!
View content warnings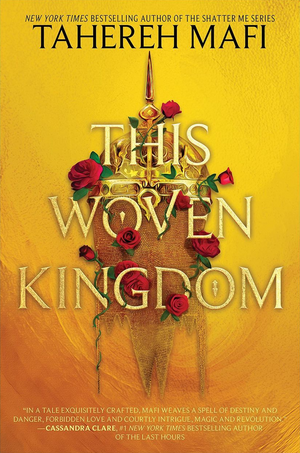 This Woven Kingdom
By Tahereh Mafi
My Rating: ★★★★.5
Published February 1 by Harper Collins
YA fantasy | Jinn | Romance
Clashing empires, forbidden romance, and a long-forgotten queen destined to save her people—bestselling author Tahereh Mafi's first in an epic, romantic trilogy inspired by Persian mythology.

To all the world, Alizeh is a disposable servant, not the long-lost heir to an ancient Jinn kingdom forced to hide in plain sight.

The crown prince, Kamran, has heard the prophecies foretelling the death of his king. But he could never have imagined that the servant girl with the strange eyes, the girl he can't put out of his mind, would one day soon uproot his kingdom—and the world.
My thoughts
This book is marketed as a young adult novel, but honestly I think the writing works really well for adults as well. The style felt really mature to me, and the flow was excellent. My only other experience with Mafi's writing is the Shatter Me series, and I've come to realize I just really vibe with her writing style. Even if not much is happening on page, you're still compelled to read one more chapter until you've suddenly finished the book.

I always think it's important to mention whether a book is more plot-driven or character-driven. I do think that this one is more character-driven. It's not a very fast-paced book, and except for the finale, there wasn't a whole lot of action either.

But boy, did I love the characters.

Alizeh is definitely a new fav. Mafi took the classic lost queen trope and put a new spin on it. This book is not about a lost heir amassing an army; it's more about a lost heir trying to be left alone and accidentally entangling herself with a prince, who is supposed to be her enemy. So yes, forbidden romance trope is very present. Speaking of princes, it was very refreshing to have a royal who actually does some self-reflecting and genuinely seems to care about his people. Alizeh and Kamran both have POV chapters and they were always equally entertaining.

Despite not being extremely plot-heavy, this book had a surprising amount of twists. I didn't see any of them coming at all, which means that Mafi is great in setting readers on the wrong track. This also means that I'm going to scream at any news about book 2. This series is supposed to be a trilogy, so I can only imagine book 2 being even more twisty.
Why I docked a half star
Yes I loved this book and I'm obsessed, but I also wish it had slightly more visual worldbuilding. The actual mythology and history of the Jinn is amazing, but I had a hard time visualizing Alizeh's present world. I wish a bit more was shown of the city itself.

I also feel like there were a few inconsistencies in the beginning. It made the story seem a bit jumpy, especially when Alizeh's and Kamran's storylines converged. One POV would end, but the other would not pick up where it left off. Nevertheless, I want more of Alizeh and Kamran's POVs converging, please.
And that's it for my review of This Woven Kingdom! I absolutely loved it, and hope you do too if you decide to pick it up. Let me know your thoughts if you've already read it!

Find more reviews in my archive!