Happy Monday all! I hope this week will bring you many exciting things and that one of those things is this review.👀 Last year I read This Woven Kingdom and instantly became obsessed with the characters. Last month These Infinite Threads came out and I'm happy to report I'm still as obsessed.
When I posted my review of This Woven Kingdom there was still zero info available on its sequel. I actually thought this was gonna be a duology but it isn't, and guess what?? Zero info available on book three! I'm gonna cry. Anyway, if you haven't read This Woven Kingdom yet, read my review to convince you.

Now let me tell you about These Infinite Threads and why I liked it so much!
View content warnings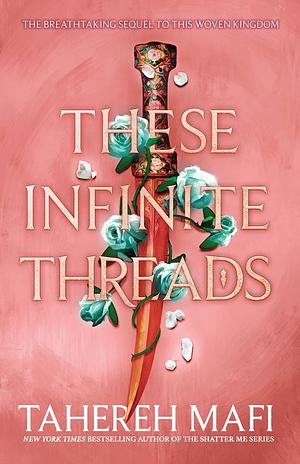 These Infinite Threads
By Tahereh Mafi
My Rating: ★★★★.5
Published February 1 by Harper Collins
YA fantasy | Jinn | Romance
With the heat of a kiss, the walls between Alizeh, the long-lost heir to an ancient Jinn kingdom, and Kamran, the crown prince of the Ardunian empire, have crumbled. And so have both of their lives.

Kamran's grandfather, the king of Ardunia, lays dead, the terrible secret of his deal with the devil exposed to the world. Cyrus, the mysterious copper-haired royal, has stolen Alizeh away to Tulan, the neighboring kingdom where he rules. Cyrus has made his own deal with the devil—one that would require Alizeh to betray her feelings for Kamran if she's to reclaim the Jinn throne.

Alizeh wants nothing to do with Cyrus, or his deal with Iblees. But with no means of escaping Tulan, and with the tantalizing promise of fulfilling her destiny as the heir to the Jinn, she's forced to wonder whether she can set aside her emotions—and finally become the queen her people need.

Kamran, meanwhile, is picking up the pieces of his broken kingdom. Facing betrayal at every turn, all he knows for certain is that he must go to Tulan to avenge his grandfather. He can only hope that Alizeh will be waiting for him there—and that she's not yet become queen of Tulan.
My thoughts
This book opens right with the same scene book 1 ended with, except this time it's from Kamran's perspective. Normally I dislike it when sequels pick up right where the first book left off, but in this case it was handy because 1: I've no clue what happened anymore, as is usual, and 2: the events were described from a whole different perspective which added more substance to the scene.

One of my main complaints (the only one, really) about This Woven Kingdom was that I didn't feel like the world was fleshed out enough. There weren't a lot of visual cues, and since I'm a visual reader I was a little bummed about that. But, in These Infinite Threads the world is much better described. Now we have the same two POVs, but in two completely different places. Kamran, who has to hold his kingdom (and himself) together in the palace, and Alizeh, who has been whipped away to Tulan. Not gonna lie, Tulan seems like a pretty place to live.

Plot wise nothing much happened really. There are some fun revelations and interesting new characters, but other than that, this isn't an action packed book. However, like the first, this book is very character driven. I enjoyed reading Kamran and Alizeh's POVs so much that I don't even care that nothing much went on and that like 70% of the book was inner monologue. Cyrus is such an interesting character too, and I may suspect Tahereh is gonna pull an Aaron Warner on us with this one. Either that or he's gonna die a violent death. Not sure which I prefer, and that says enough about him as a character I'd say.

In all I really enjoyed this book, despite the fact that nothing really happened. However, there are still plenty of questions to be answered regarding Cyrus and what his deal exactly is, so I am super excited for any news about book 3!
And that's it for my review of These Infinite Threads! I think if you like character driven books, you're definitely going to like this series. Let me know if you've read this book already, and if so, what you thought of it!

Find more reviews in my archive!