Happy Sunday book friends! Did you all have a good January? Our lockdown ended, which means I'm mostly working again. But I still read a bunch of books in January.
In total I read seven books. This year I also set a goal of 40K pages, so I've been keeping better track of my reading. Not that you can tell, because I haven't bothered to update all my socials yet… But, I have a space in my notebook dedicated to my reading! Anyway, I managed to read some big books last month, so I got a good start to this goal.january 2022 reading january 2022 reading january 2022 reading

Let's check out my 2022 January wrap up!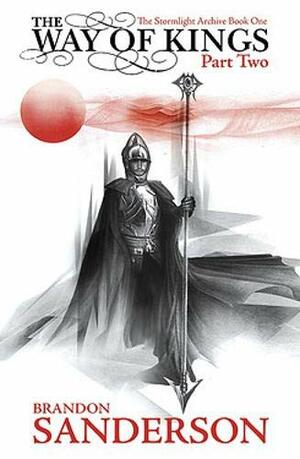 The Way of Kings (part 2)
By Brandon Sanderson
I read part 1 of The Way of Kings last year, but then wanted to take a small break. I'd been trying to read this book for years, but the size and lack of happenings kept making me put it down. So I purchased the two-part edition to trick my brain into thinking it was just two smaller books. Well, the thing is, even those separate books still make for quite a chonky read. This one was 524 pages long, but I managed to read it quite quickly. I definitely liked it better than the first part because more stuff was happening. Either way, despite not being a very eventful book, the characters are really enjoyable and I loved learning about the world. Plus Sanderson's writing is always good.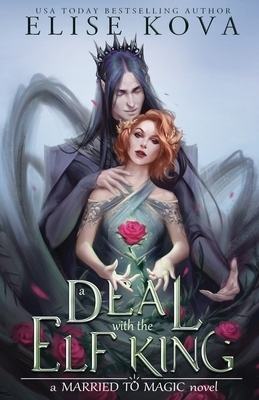 A Deal with the Elf King
By Elise Kova
Someone on Twitter or Instagram (forgot which lol) suggested that I switch between reading big books, and small books, so that I can safely take my time with bigger books without putting my reading goal in danger. So that's what I did! I loved Elise Kova's Air Awakens, and figured I could give this book a try, too. I liked it, but in my opinion Air Awakens was just a bit better. Probably because ADWTEK acts as a standalone, whereas Air Awakens is merely the beginning of a series. Still, it was a fun and quick read and I enjoyed the romance.
Cibola Burn
By James S.A. Corey
And back to big books we go. Reading this one was long overdue, since I read Abaddon's gate more than one year ago. Apparently some people think this is the weakest book in the series; I don't agree, I think so far that's book 3. But to be honest, every single character minus Holden annoyed the shit out of me. They all made stupid decisions, and it wasn't until way near the end that they finally got some brains and used them like I wanted them to. Also I hated the main villain in this book, but that's a point in the story's favor. Anyway, the series is now obviously taking a turn, and I am curious to see where it goes!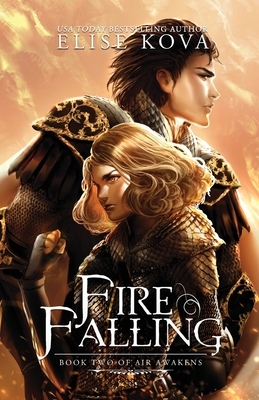 Fire Falling
By Elise Kova
Now it was time to read the sequel to Air Awakens. I quite liked it, but I missed the vibes of Air Awakens. I totally loved the castle and library setting in that one, and Fire Falling mainly takes place on the road. I didn't feel like there was a whole lot of substance to the story itself, either. It kind of felt like it was meant as a ways to go from book 1 to book 3. The ending was also a massive cliffhanger, so I'm glad that I do already own book 3. I have a feeling that one is going to be better.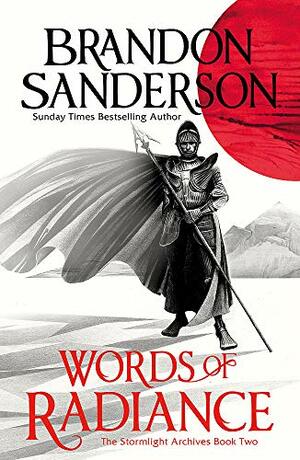 Words of Radiance (part 1)
By Brandon Sanderson
As is so often the case, Sanderson again showed my that I can't trust him to leave my favorite characters alone. You'd be reading along, having a good time because everything is coming together, and *poof* it's time for tears. Anyway, now that the world is fully established, it was way easier to read through this book than it was to read through The Way of Kings. So much more is going on and many characters' storylines finally converge, and it was all around a good reading time. Hopefully I'll be able to pick up part 2 this month.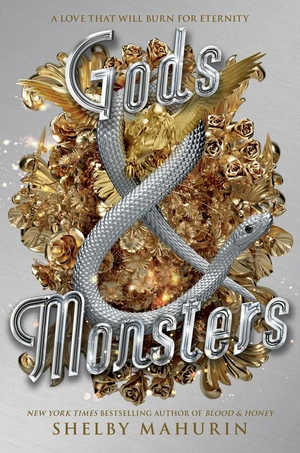 Gods & Monsters
By Shelby Mahurin
This book is already a contender for biggest surprise of the year. I liked Blood & Honey, but honestly, I expected so much more from it. In the end, zero progress was made and that was disappointing. So I was very hesitant to pick up Gods & Monsters, because well, it's huge. Over 600 pages and I don't care that the font is big, that's still a lot of pages. And I really didn't want to spend all of those bored. You can imagine my surprise when I couldn't stop reading after finally starting it. I still don't think much was going on, I still think this is mainly a series about characters and not plot, but I enjoyed it so much. Honestly a fantastic comeback and a great way to end a series. It's the only book I reviewed in January, so read my review here!
Iron Gold
By Pierce Brown
I finally read Iron Gold. I finished Morning Star in January 2020, so it was definitely about time. This is also the only book I read in January that I am not rating based on vibes. Because all the vibes were bad. Seriously, every character in it makes the wrong decisions, and I can only assume the Geneva Convention on the Conduct of Warfare has been deleted at some point in this series. Everyone better get their shit together in Dark Age, or else I'm going to be very upset. Anyway, in terms of writing this was, of course, very good. I didn't really expect anything else, and honestly the various POV chapters were quite fun. I especially looked forward to Lyria's chapters while reading, and I hope she doesn't die a horrible death.
Pages Read
So, in order to read 40K pages this year, I need to read 3333 pages a month. Now I only count the pages with actual story on them, not the acknowledgments and all the stuff that comes after that (because honestly, I hardly ever read those parts so it would be unfair to count them). So let's see how many pages I managed to read in January! 3682


The Way of Kings part 2: 524 pages
A Deal with the Elf King: 338 pages
Cibola Burn: 581 pages
Fire Falling: 378 pages
Words of Radiance part 1: 653 pages
Gods & Monsters: 612 pages
Iron Gold: 596 pages
That brings my total up to 3682 pages, woohoo! Made the goal with 300 pages to spare, go me. Hopefully I can continue this pace and I'll easily make my goal!
And that's it for my January 2022 reading wrap up! All in all, a great start to the year. I have some books on my TBR for February that I think will help me reach my monthly page goal again. I'm planning a Throne of Glass reread, and hope to squeeze in House of Sky and Breath, too.

What did you read in January? Did you discover any new potential favorites?