Happy Monday book friends! Gods & Monsters is not the first book I finished in 2022, but it is the first one I'm reviewing. It's also been well over a month since I last posted a review on here, oops.
To be real honest I was very hesitant to pick up Gods & Monsters. I genuinely liked Serpent & Dove, but if you've read my review of Blood & Honey you know that that one left me disappointed. It was fine, but I expected more. I really didn't feel like reading over 600 pages (yes, Gods & Monsters is that big) of slow plot progression only to face a disappointing ending. Well, I'm glad to report my fears were unfounded. Read on for some content warnings and I'll tell you why I loved Gods & Monsters!

Warning! This review won't contain spoilers for Gods & Monsters, but might contain small spoilers from the previous two books.
View content warnings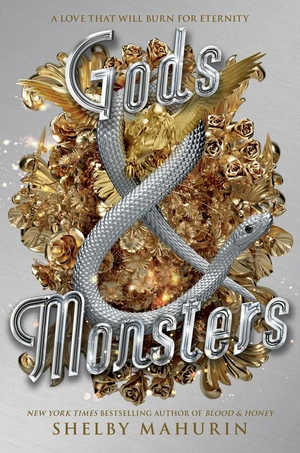 Gods & Monsters
By Shelby Mahurin
My Rating: ★★★★☆
Published 26 October 2021 by Hodder & Stoughton
Young Adult | Fantasy | Romance
Evil always seeks a foothold. We must not give it one.

After a heartbreaking loss, Lou, Reid, Beau, and Coco are bent on vengeance more than ever before—and none more so than Lou.

But this is no longer the Lou they thought they knew. No longer the Lou that captured a chasseur's heart. A darkness has settled over her, and this time it will take more than love to drive it out.
My Thoughts
Part of me is really disappointed that I waited this long to start this book. I spent a stupid amount of time trying to remember names and events from the previous books, and that hindered my enjoyment for the first 50 pages or so. This book is quite chonky, and like I said, I was scared that I was going to spend 600 pages being bored. Luckily that did not happen.

I pretty much flew through this book and had it finished within two days. That does not mean this book is fast-paced, because it is not. I was just completely enthralled by the POV chapters of Reid and Lou. I think my favorite part of this book and the series as a whole is the friendship. It's so deep yet at the same time so straightforward. Hardly any unnecessary drama and just full commitment to each other.

To be honest, there still is not a whole lot of plot. I can identify the main goal, and two subplots, and that's it, so it's still a very character-heavy book. Nevertheless, I enjoyed the characters' journey a lot. Blood & Honey introduced us to non-human creatures besides witches, and Gods & Monsters introduces even more. I think this addition of characters was a lot of fun, though I do wish that they also would've made an appearance in the very first book. Now it kind of feels like they were invented after the worldbuilding of the first book was already set.

I also found this book a lot more intense than the other two. Maybe I misremember, but there is a lot more violence and a lot more blood. The last couple of chapters of this book were particularly intense, as so much was going on. I think the confrontation between Lou and Morgane was nicely done. Though I do wish there was more info on what happens between the witches and the church after all is said and done. There are hints to what may happen, but as always I need to know every little detail.
And that's it for my review of Gods & Monsters! I am honestly so sad that this series is over. I loved this book a lot more than I thought I would. If you're like me and are on the fence about continuing this series, I'd say go for it! Chances are good you'll enjoy this one. If you have read the whole series, let me know your thoughts!

Find more reviews in my archive!