Happy Thursday book friends! I have another book review for you today. After exclusively rereading books in February, I'm making more of an effort to read newer books in March. Up next in my schedule is The Hunger of the Gods by John Gwynne, so keep an eye out for that in the next week!
But first, let's discuss The Justice of Kings by Richard Swan. I bought this when I was out and about last weekend because I saw it floating around and I've never read a bad Orbit book, so. Here we are. Check out the content warnings and read on for my thoughts!
View content warnings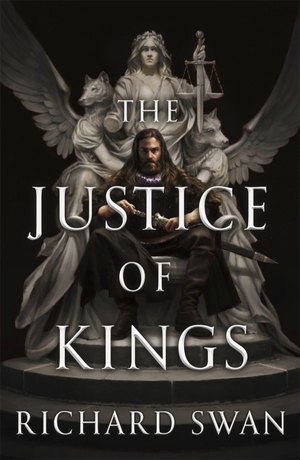 The Justice of Kings
By Richard Swan
My Rating: ★★★.75☆
Published February 22 by Orbit
Fantasy | Mystery | Magic
The Justice of Kings, the first in a new epic fantasy trilogy, follows the tale of Sir Konrad Vonvalt, an Emperor's Justice – a detective, judge and executioner all in one. As he unravels a web of secrets and lies, Vonvalt discovers a plot that might destroy his order once and for all – and bring down the entire Empire.

As an Emperor's Justice, Sir Konrad Vonvalt always has the last word. His duty is to uphold the law of the empire using whatever tools he has at his disposal: whether it's his blade, the arcane secrets passed down from Justice to Justice, or his wealth of knowledge of the laws of the empire. But usually his reputation as one of the most revered—and hated—Justices is enough to get most any job done.

When Vonvalt investigates the murder of a noblewoman, he finds his authority being challenged like never before. As the simple case becomes more complex and convoluted, he begins to pull at the threads that unravel a conspiracy that could see an end to all Justices, and a beginning to lawless chaos across the empire.
My Thoughts
One of the most intriguing aspects of this book for me was the language. To me it felt very classical; kind of similar to the language used in Game of Thrones, if that at all makes sense. Either way, it made for quite the atmospheric read that briefly transported me back in time. The story does not have a whole lot of action, except for during the finale. I thus felt like the start was kind of slow, and it took me a while to get into the book. The setting is also a little dreadful. The main characters spend much of their time on the road, and it's cold and wet and overall bleh. I hate cold and wet, so I felt miserable right alongside them.

I also feel like I need to rectify part of the blurb a bit. It makes it seem like this book is solely about Sir Konrad Vonvalt. Which, to be fair, it is, but it's all told from his clerk Helena's perspective. I really liked her as a character, as she still has typical teenager traits but also learns and grows a lot in the story. This made her very realistic to me. Her relationship with Vonvalt is also very interesting, and it's something that gets explored quite often in the book. He seems to fulfill the role of guardian, father, brother and uncle all in one. That also makes her quite confused about the whole deal, especially as she begins to wonder whether the work of a Justice even appeals to her.

Like the blurb says, the Emperor's Justices make sure that the law is applied equally across the whole empire. The empire seems pretty vast, but I didn't get to see a whole lot of it in this book yet. I'm hoping that it gets expanded a lot more in the sequel. I did very much enjoy this modern take on law and civil society in a fantasy setting. Theoretically, the law should apply to nobleman and peasant, which is something that Vonvalt firmly believes. But, and I can probably talk about this topic forever, at the end of the day, all laws are merely ideas and not everyone is going to quietly accept their existence.

Ethics definitely come into account here, too. A Justice can after all use their arcane powers to force the truth out of anyone. There are definitely those in the empire that feel this presents an unfair advantage. Additionally, this book includes a form of necromancy, which I thought was really cool. Especially because it's the only time I've read that necromancy causes a physical reaction in both performer and bystander. It seems that Swan really thought about which powers are useful, what they cause to happen, and what their limitations are.

There were still a couple of things I didn't entirely enjoy about this book, though. The tone was quite dark, and I'm not sure if that's my thing. I enjoy some dark books, but they often include short bits of humor to make up for it. This book was just dark beginning to end. I had also hoped that the relationship between the characters was more of a found family type, but it really wasn't. They're fond of each other, but they're not equals. Lastly, I felt that the battles in the book were a bit… flashy? They didn't always seem entirely believable to me.

Anyway, the mystery did resolve itself nicely, and I liked the complexity of it. Vonvalt and Helena aren't done yet, and I do look forward to book 2.
And that's it for my review of The Justice of Kings! Even though I found this book a bit dark for my liking, I did enjoy it and will pick up the sequel when it comes out hopefully next year. I'm especially excited to follow Helena again as she grapples with what she wants out of life. Is this book on your TBR yet? Let me know!

Find more reviews in my archive!